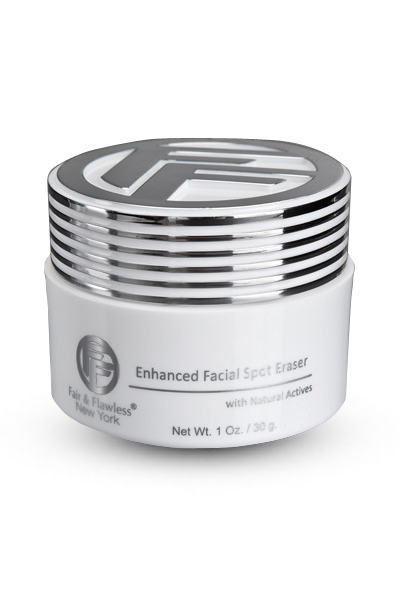 FAIR&FLAWLESS LUX COLLECTION
Made in USA Dark Spot Eraser
$ 99.99
DETAILS
1oz / 30ml
Troubled by dark spots caused by acne, sun damage, or hyper-pigmentation caused by hormonal changes? Fair and Flawless's Enhanced Sepiwhite Dark Spot Eraser is designed to erase unsightly marks in just a few days. Brimming with Mulberry Extract, Vitamin C, and peptides, the Super Charged Sepiwhite Dark Spot Eraser drastically improves the firmness and texture of your skin. Choreographed specifically for those with oily and acne-prone skin, the Enhanced Sepiwhite Facial Spot Eraser accomplishes all of the desired tasks, all without additional oils and moisturizers that can clog pores and cause breakouts.
New Yorker's Get the most dramatic results by pre-treating skin with Fair & Flawless products to make the skin more receptive. Dab onto dark spots and discolored areas. Let the Enhanced Facial Spot Eraser absorb for 30 seconds. Then for the fastest and most even results, apply Enhanced Facial Lighten Cream over on top.
Aqua (Water), Tetrahexyldecyl Ascorbate (Vitamin C Ester), Isopropyl Palmitate, L-Trosine, Malic Acid, Cetearyl Alcohol, Urea, Cyclomethhcone, Triethanolamine, Sodium Carboxymethyl Beta-Glucan, Butylene Glycol, Tocopheryl Acetate, Camelia Oleifera (Green Tea) Leaf Extract, Dimethicone, Ceteareth-20, Phenoxyethanol, Ethoxdiglycol, Glyceryl Stearate, PEG-100 Stearate, Dimethyl MEA (DMAE), Caprylyl Glycol, Sodium Hyaluronate, Allantoin, Bisabolol, Citric Acid, Sepiwhite MSH, Rosmarinus Officinalis (Rosemary) Leaf Extract, Elaeis Guineensis (Palm) Oil, Tocotrienols, Ascorbyl Palmitate (Vitamin C Ester), Zinc Sulfate, Pyridoxine HCl, Pantethine, Sorbic Acid, Disodium EDTA, BHT, Tocopheral, Parfum (Fragrance), Benzyl Benzoate.