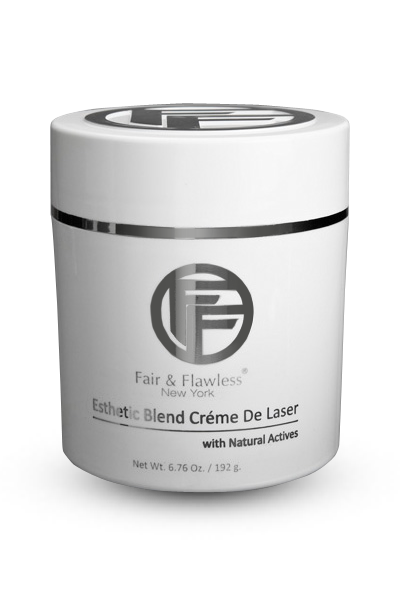 FAIR&FLAWLESS LUX COLLECTION
Custom Made In The USA Sepiwhite Créme De Laser
$ 599.99
DETAILS
6.67oz / 200ml
The Esthetic Sepiwhite Blend 20XF Créme De Laser is a age relevant gentle penetrating night cream that exfoliates, corrects, whitens and renews your skin as you sleep, erasing years of unwanted pigmentation. Designed to penetrate deeply and dramatically, the Créme De Laser slows the formation of new melanin, while erasing pigmentation. The deliciously scented Créme De Laser is packed with natural proteins and herbal ingredients to return your skin to its youthful, majestic appearance.
Apply to the neck, decollate and entire body before bedtime in a gentle circular motion, making sure to massage along the hairline and up behind the ears. (This is a very effective product—you don't want a to leave a dark line visible where you forgot to treat!) Pay special attention to heavily pigmented areas such as elbows and knees.
Aqua(Water), Tetrahexyldecy Ascorbate (Vitamin C Ester), Lsoprpyl Palmitrate, L-Tycrosine, Glycolic Acid, Cetearyl Alcohol, Urea, Cylomethicone,Sodium Carboxymethyl, Beta-Glucan, Butylene Glycol Tocopheryl Acelate, Camellia Oleifra (Green Tea) Leaf Extract, Niacinamide, Dimethiocone, Celeareth-20, Phenoxyethanol, Ethoxydiglycol, Glceryl Stearate, PEG-100 Stearate, Avena Sativa (Oat) Protein Extract, Dimethyl MEA (DMAE), Caprylyl Glycol, Kojic Acid, Sodium Hyaluronate, Allantoin, Bisabolol, Citric Acid, Rosmarinus Officinails (Rosemary) Leaf Extract, Elaeis Guineensis (Palm) Oil, Castor Oil, Tocotrienols, Sepiwhite MSH, Ascorby Palmitate (Vitamin C Ester) Zinc Sulfate, pyridoxine HCI, Pantehine, Sorbic Acid, Disodium EDTA, BHT, Tocopherol, Palmitoyl Oligopeptide (Neuropeptide), Palmitoyl, Teltrapeptide-7 (Neuropeptide) Nonapeptide-1, Phaseolus Lunatus (Green Bean) Extract, Benzyl Beanzoate, Fragrance.