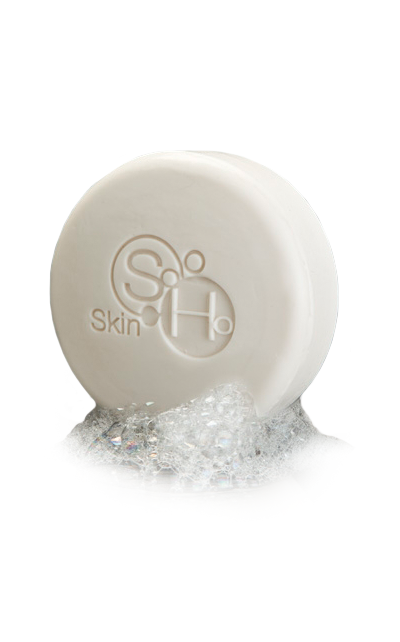 SKIN SOHO
Skin Soho Soya White Cleansing Solid
$ 25.00 $ 30.99
DETAILS
3.5oz
Soya White Cleansing Solid is an effective skin care and whitening soap that does much, much more than clean. It's lavish with ingredients that deeply care for and lighten skin while giving you a delicious, foamy cleansing. It leaves your body smooth, bright and moisturized, clean and naturally deodorized. You'll see the brightening, softening, and renewing results within days of your first use!
*Due to its formulation for the body, we strongly recommend that you do not use this product on the more delicate skin of the face.
Wash with the Soya White Cleansing Solid at each shower or bath. Rinse clean and dry thoroughly before applying Skin Soho Body Lightening Souffle or your other favorite Skin Soho lightening products.
Water, Sodium Palmate, Sucrose Stearate, Myristic Acid, Sucrose, Glyceryl Isostearate, Glycerin, Stearic Acid, Alcohol, Sorbitol, Sodium Hydroxide, Sodium Oleate, Hydrolyzed Collagen, Squalane, Honey, Oryza Sativa (Rice) Germ Oil, Almond Oil, Tetra sodium Etidronate, Caramel, [Oil Of Rosa Canina Fruit], Butylene Glycol, Simmondsia Chinensis (Jojoba) Seed Oil, Perilla Ocymoides Seed Oil, Lycium Chinese Fruit Extract, Morus Alba Root Extract, Trifolium Pratense (Clover) Flower Extract, Tamarind Extract, Paeonia Suffruticosa Root Extract, Rehmannia Chinensis Root Extract, Paeonia Albiflora Root Extract, Rosa Multiflora Fruit Extract, Sanguisorba Officinalis Root Extract, Tussilago Farfara (Coltsfoot) Flower Extract, Calendula Officinalis Flower Extract, Glycyrrhiza Glabra (Licorice) Root Extract, Sepiwhite MSH, Eriobotrya Japonica Leaf Extract, Citrus Unshiu Peel Extract, Sedum Rosea Root Extract, Ginkgo Biloba Leaf Extract, Angelica Keiskei Extract, Prunus Lannensiana Speciosa, Prunus Jamasakura Speciosa, Aloe Barbadensis Leaf Extract, Sasa Veitchii Extract, Rubus Suavissimus (Raspberry) Leaf Extract, Acorus Calamus Root Extract, Artemisia Capillaris Flower Extract, Melia Azadirachta Leaf Extract, Angelica Acutiloba Root Extract, Pueraria Mirifica Root Extract, Ganoderma Lucidum (Mushroom) Stem Extract, Lilium Candidum Bulb Extract, Tremella Fuciformis Polysaccharide, Saxifraga Sarmentosa Extract, Gardenia Florida Extract, Betula Alba Juice, Hydrolyzed Prunus Domestica, Hydrolyzed Soybean Extract, Nephelium Longana Seed Extract