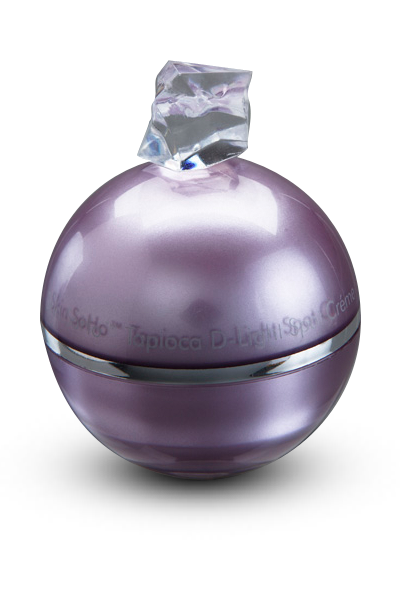 SKIN SOHO
Skin Soho™ Tapioca D-Light Spot Crème
$ 29.99 $ 60.99
DETAILS
2oz / 60ml
An amazingly effective blemished skin dark spot remover, Skin Soho Tapioca Spot Crème can be used to erase the stubborn spots of hyperpigmentation caused by acne, sun exposure, and hormones. Three effective lightening agents combine in this spot treatment to even out skin tone and remove dark patches.
Powerful, yet formulated with moisturizing and herbal ingredients, this spot treatment delivers results while preserving and improving skin quality. Non-irritating and non-greasy, this spot remover is best used on particularly persistent spots and paired with another Skin Soho or Fair & Flawless cream or gel for all over tone improvement.
Get the most dramatic results by using after pre-treatment with your Skin Soho Latte + Granita Pre-Treatment Cleanser to make the skin most receptive. Dab onto dark spots and discolored areas. Let the Tapioca D-Light Spot Crème absorb for 30 seconds. Then for the fastest and most even results, apply your favorite Skintrium overall lightening moisture to the entire area. (Best-selling Skin Soho Facial Lightening Parfait is a great choice. Or, follow your Tapioca with a Cocktail—our all-over brightening Skin Soho Cocktail Serum.)
Purified Sea Water, Whole Wheat Protein, Kojic Acid, Mulberry Extract, Dimethicone, Macadamia, Methylparaben, Retinyl Palmitate Tocopherol, Propylparaben, Undecylenoyl Phenylanine (SEPIWHITE MSH), Fragrance.