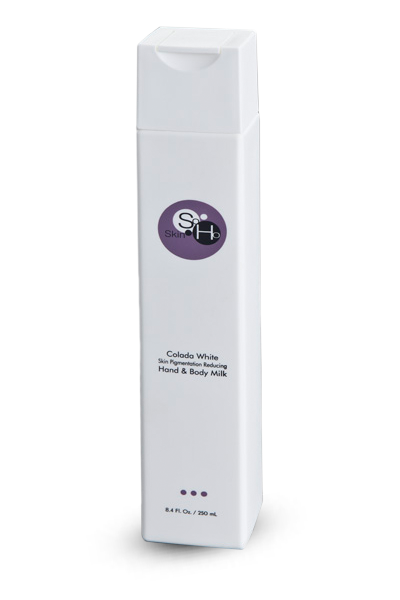 SKIN SOHO
Skin Soho™ Colada Skin Pigmentation Reducing Hand & Body Milk
$ 99.99
DETAILS
8.4oz / 250ml
Transform your skin tone with Skin Soho™ Colada White Skin Pigmentation Reducing Hand & Body Milk. The perfect blend of relaxing colada essence combined with advance lightening properties, this lotion will give you the all-over creamy complexion you desire. The most intense of the lightening products, this body milk performs the triple duty of exfoliating, hydrating and lightening. The Colada White Skin Pigmentation Reducing Hand & Body Milk combines multiple lightening agents with soothing aloe, chamomile, and the rich emollient of avocado oil. Smooth on this luxurious Hand & Body Milk for more luminous skin.
Apply twice daily to thoroughly cleansed skin. After bath or shower is ideal. Please note: This is a more intensive lightening product, with concentrated ingredients to encourage lightening. Not for face; avoid contact with eyes and mucous membranes. You will need sun protection when using this product.
Some people may experience a mild stinging or may incur a mild irritation. If irritation becomes severe, discontinue use and consult your skin care professional. Do not use on skin that is irritated from the sun, extreme cold, peeling, waxing, or electrolysis. Keep out of reach of children. Use only as directed.
Aloe Vera Gel, Safflower Oil, Glycerin, Lactic Acid, Glycolic Acid, and Sodium Glycolate, Stearic Acid, Cetyl Alcohol, Dimethicone, Arnica Blossoms Extract, Calendula Blossoms Extract, Glucose, Fructose, Sucrose, Urea, Dextrin, Alanine, Glutamic, Acid, Hexyl Nicotinate, Tocopherol, Sodium Alginate, Retinyl Palmitate (Vitamin A), Chamomile, Extracts of Cucumber, Bromelian Extract, Calendula Blossoms, Yarrow Flowers, Sepiwhite MS, Palmitoyl Oligopeptide, Palmitoyl, Tetrapeptide-3, Guar-Gum, Koji Acid, Sodium Hyaluronate, Mulberry Extract, Sodium PCA, Ascorbyl Palmitate, Hyaluronic Acid, Squalane, Avocado Oil, Fragrant Oil, Phenoxyethanol, Potassium Sorbate, Sodium Benzoate.